#When it comes to Fibre broadband we simply do it better!*
Make a no obligation enquiry
Our Fibre Broadband for Business Features
Frequently Asked Questions about Zinia Broadband Fibre
Why should our business upgrade to Fibre?
Fibre is the fastest and most consistent technology for data. The faster you can download web pages and files the more productive staff can be. Because it has a low latency the consistency is excellent making voice, video and connecting to cloud services quicker.
Why is doing a feasibility important?
The reason we do a feasibility is to understand what services are available in your area; each area is different in terms of services, networks and technologies available. Once we know what is in your area, we compare services and advise you on the best options for your business.
Which networks do Zinia work with?
We have interconnect agreements with all the major networks. In addition, we have our own fibre and wireless network, making our coverage extensive.
What happens if we are unhappy with the network provider during our contract?
If you are having consistent performance degradation on your fibre line, we will switch you, during your contract, to another network that may suit your business better.
TOP REASONS TO CHOOSE ZINIA
In house engine of skilled technicians, systems and tier 1 carrier-grade network. Full control and accountability.
Service culture rated highly by our clients for service excellence.
Simplicity of processes, communication and one provider for your voice, IT and Internet across all major networks.
Uncapped Bandwidth

Up to 1Gbps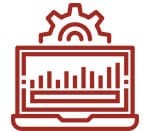 Proactive Monitoring
Other Professional Services