Get Employees Working from Home Productively
Your business needs the right technology tools to ensure employees can and actually are working at home. Your business livelihood depends on it. No business can wait another month or two to find out that critical employees have been doing everything but their work...
What if you could double the productivity of your employees every day?

We recommend an LTE device for employees that do not have fast internet at home.
• LTE is affordable, high speed Internet over the mobile network
• It can be setup quickly and is reliable.
• It can handle video conferencing.
• Get it with or without Wi-Fi.

Setup a virtual phone extension
Instead of reimbursing employees for "calls" they claim they made, give them a virtual extension and manage the cost of telephony.
How it works
• A Virtual PBX is set up at our secure and robust Data Centre .
• Setup SIP accounts quickly and easily.
• Install an app on the employees' mobile phone to make calls or video calls over the Internet, as if they were at the office.
• All calls at VOIP rates. Big cost savings!
• Manage calls as you would a normal PBX
– Transfer calls
– Voice Mail
– Call recording… and much more
• Get reporting to ensure employees are in fact making the calls they should be.
– Manage and control call destinations
– Bar non business numbers
– Report on all calls in and out
– Automatic emailed reporting
– Internal calls free

Giving employees secure access from home to business applications is critical in today's world, make sure you have the tools to secure and manage access, traffic behavior and company data.
• End point software controls laptops and devices with full firewall functionality
• Full control measures even when offline
• Higher functionality when paired with firewall device
• Ensure business data is used for
business only
• Employees get secure access to the internet and business applications.
• Control which applications employees can access and which websites they are, and are not, allowed to visit.
• Enforce IT policies to manage risk to company data.

Staff can be your most valuable or most costly asset. Let's make sure they stay productive!
How the productivity tool works:
• A single dashboard showing your entire company performance
• Usage patterns of where employees spend their time – applications, websites and idle time on their laptop or device 
• Identify productive and unproductive individuals and teams
• Red flag risky employee behaviour
• Identify bottlenecks where employees are being hampered
• Identify individuals at risk of burn-out
Full Productivity Management
End user productivity management
* Landline calls 39c
* Mobile calls 69c
*24 Month Contract
3 - 10 GB month-to-month contracts when purchasing the full LTE, Virtual Extension, Firewall and Productivity solution
Firewall for Laptops & PC's
End point firewall management
TOP REASONS TO CHOOSE ZINIA
In house engine of skilled technicians, systems and tier 1 carrier-grade network. Full control and accountability.
Service culture rated highly by our clients for service excellence.
Simplicity of processes, communication and one provider for your voice, IT and Internet across all major networks.
Uncapped Bandwidth

Up to 1Gbps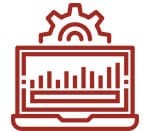 Proactive Monitoring
Other Professional Services